Developed especially for SurRon Light Bee and Segway X260 


TORP TC500 controller is made to upgrade your SurRon Light Bee or Segway X260 e-bike to an electric beast, be it on the road or at the tracks!
Tested on
Torp Bike
and perfected, to fit SurRon Light Bee and Segway X260 e-bikes* like a glove, TORP TC500 controller is the boost of power you`ve been waiting for!
FOC technology assures the smooth and predictable power-curve from the beginning to the end of the ride. In combination with a custom 72V battery, you will be able to boost the power of your e-bike up to 25kW! More specifications here.
Plug & Play in the true meaning of words. No previous knowledge of electronics is needed to install. Just follow the installation manual and you are set to go in less than 20 min! We did all the tiresome tuning and configuration for you, so you don't have to.
*TC500 Controller is only compatible with stock SurRon/Segway X260 e-motor.
DON`T LOSE FACTORY-SET FEATURES.
In Tune with stock battery
in tune with
the stock
battery.
TC500 Controller is the only after-market controller that is in communication with stock BMS. This unique feature enables the Controller to track battery temperature and cell voltage. It can also adjust the power according to the data it receives from BMS. All the stats can be accessed through the App.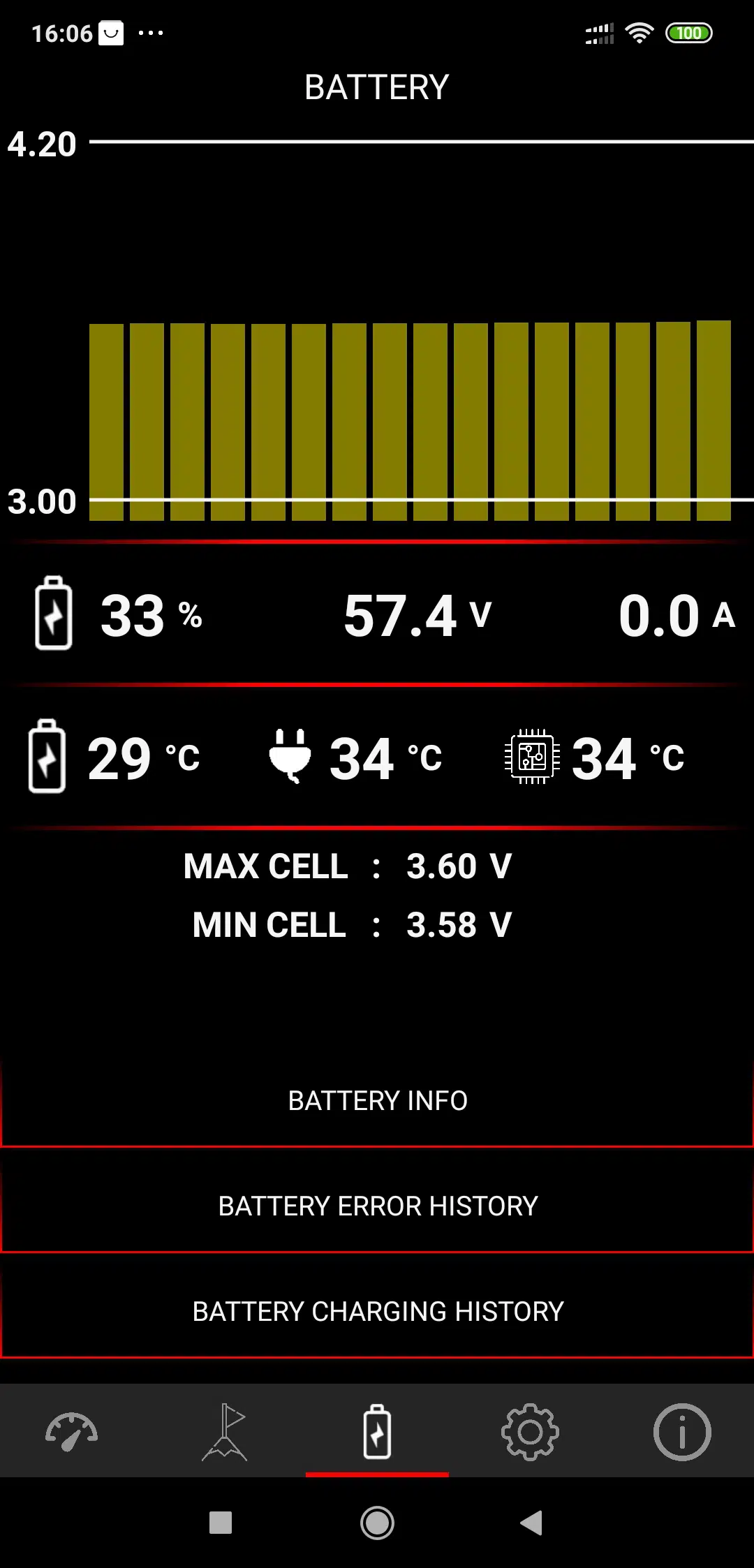 Despite the fact that the TC500 Controller works perfectly with the stock SurRon and Segway X260 display, we have developed a dedicated LCD, with which you will be able to track all of your controller and battery data in real time. This a perfect solution for all of you who do not want to use your smartphone while riding, but still want to keep an eye on all of your stats during the ride.
change your settings through the app.
Although the Controller is pre-configured for SurRon and Segway bikes, you can change features and power settings through a user-friendly mobile App.
With the mobile App, available for iOS and Android phones, you`ll have all the important stats in the palm of your hand.
USE TC500 controller
for better results.
TC500 & Stock 32/34/40Ah Sur Ron Battery
TC500 & stock 38ah Sur Ron Battery
TC500 & Custom 60V battery**
TC500 &  Custom 72 V Battery
*There is no need to bypass the battery with the TC500, but in case you use the bypassed battery, the TC500 controller will work with it as well.
**Depending on the voltage sag.
-Field-oriented control (FOC)
-Voltage 20-90V
-Max Power: 25kW*
-Sensored (HALL Encoder) and sensorless control
-Max Battery Current: 400 A*
*In combination with the stock SurRon e-motor, the max power is 17 kW.
-Max phase current: 500 A
-Efficiency up to 99%
-Working temperature: from -15 to 75 C°
-Bluetooth communication
-Pre-calibrated: No additional steps required
-Overcurrent, overvoltage, undervoltage and overtemperature protection
-Communication with stock BMS
-Different regenerative braking and throttle modes
-Weight: 1kg
-Features: Mobile App (IOS & Android), stock SurRon display
-Protection class: IP67
-Regular firmware updates
Easier to install than the stock controller
PLUG & PLAY in the true meaning of the word! Follow the instructions and be set in less than 20 minutes!
In the package, you will receive a wire harness, a controller, and a controller shield with all screws and tools needed for installation.
TC500 controller & Torp display are now available!
IMPORTANT: In case you are contacting us because you need help with your controller, send the Serial Number (S/N) of your Controller to [email protected].
Torp d.o.o.
Tina Ujevića 41
51000 Rijeka, Croatia
(+385) 95 5296 488
[email protected]